Teaching literary elements is fundamental for studying and analyzing literature. And who doesn't love dissecting the plot of a wonderful story? Well, possibly not all of your middle school or high school students, but I've created these worksheets and resources to make your life a little simpler. I have lots of FREE Literary Elements and Techniques Resources. These lessons in literature range from plot outlines to visual thinking routines to group project rubrics.
Each resource will aid you in teaching literary elements to your students. I will outline each of the free worksheets below.
Plot Notes for Any Novel
This FREE resource is a must-have for your English literature students. is a handout for students to complete while reading a book you study as a class or a book they've been assigned for independent reading. It helps them record the major elements of the plot, such as the exposition, rising action, turning point / climax, falling action, and resolution / denouement. There are also charts to record important quotes as they read.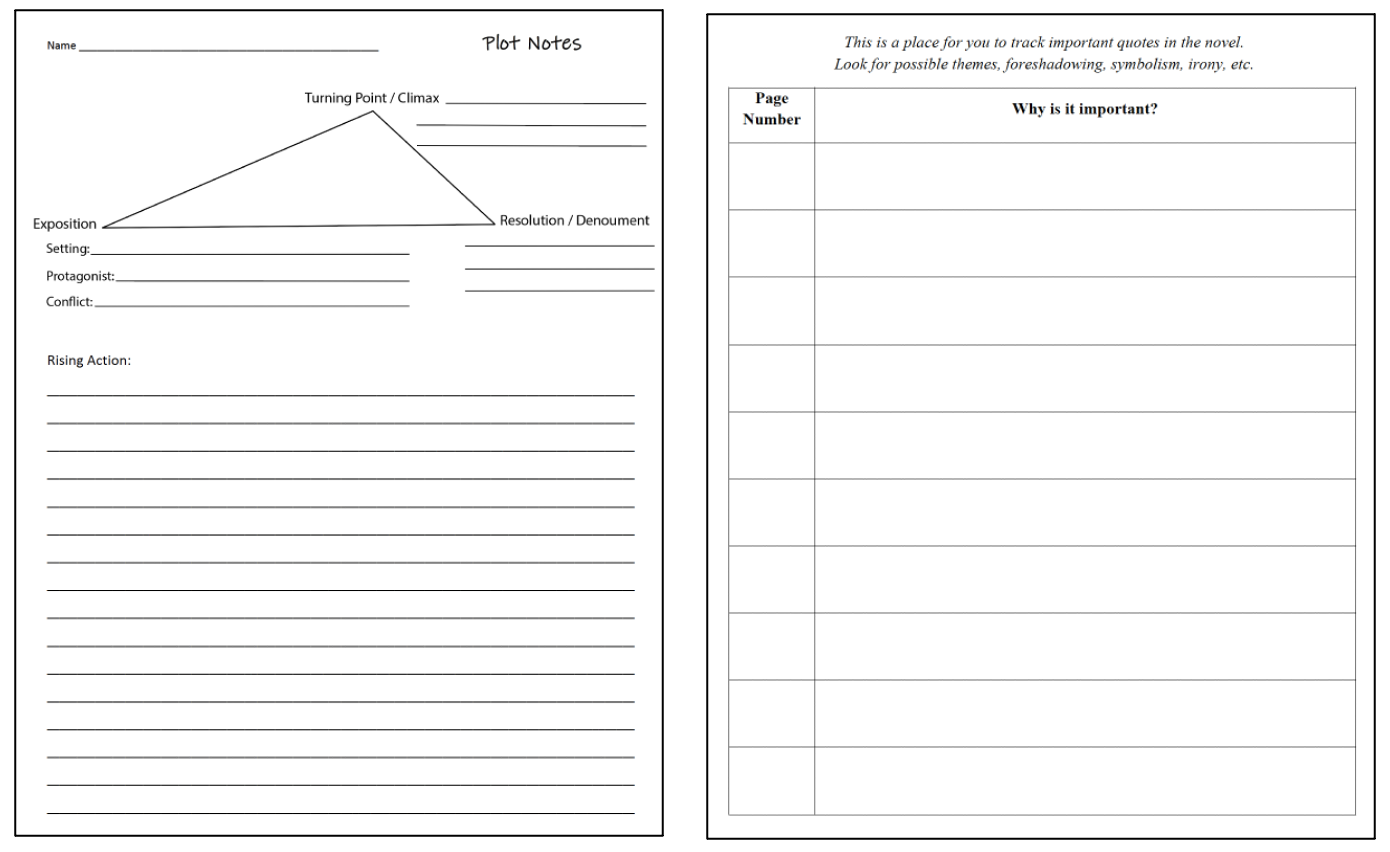 can be used for homeschool students, middle school students, or high school students.
Plot Outline with Comic Project
My compliments the Plot Notes download. I love this fun project for assessing students' understanding of the plot of a novel we have studied or to evaluate their independent reading . The plot outline is a way for students to summarize the story in a guided way so that they are sure to include the exposition, rising action, turning point, and resolution. Students then create a 7-10 panel short comic version of their novel. They can do this by hand or by using a website like
I use this project for students in 6th - 8th grade, but I think your highschool students might also enjoy this activity!
Character Analysis Essay
The Character Analysis Essay can be used with any novel. This FREE download includes the essay prompt for a character analysis essay with an emphasis on the indirect characterization techniques used by the author. I have also included a prewriting worksheet, detailed essay outline with example sentences, list of character traits, transitional language chart, self-editing worksheet, grading rubric, and student reflection assignment .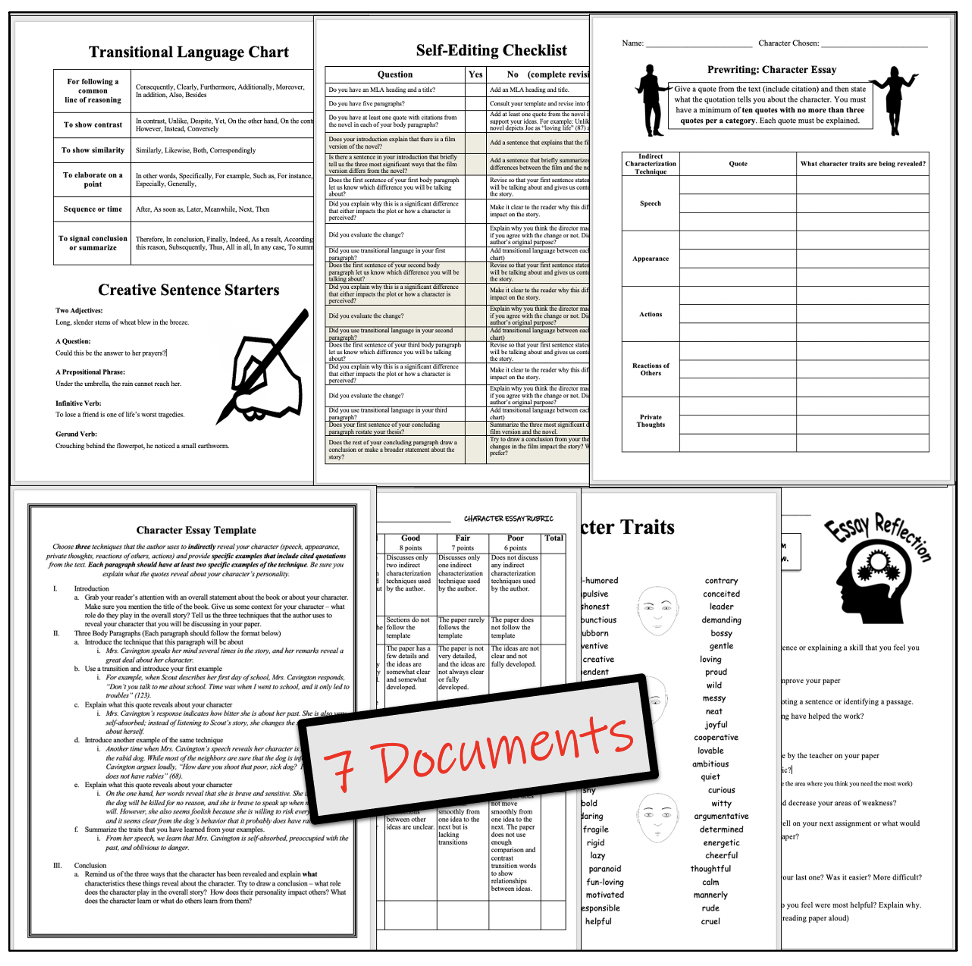 Essay Corrections Student Worksheet
Of all of the free resources for English teachers that I have created, this one may be the best to help improve students' writing skills. You see, I used to make corrections to my students' papers when I graded them with the idea that they would look at the corrections and apply this feedback for their next paper. As my fellow teachers of writing have already figured out, this never seemed to work! So I decided to put the responsibility of correcting writing back on my students' shoulders. This free helps students take ownership of their mistakes!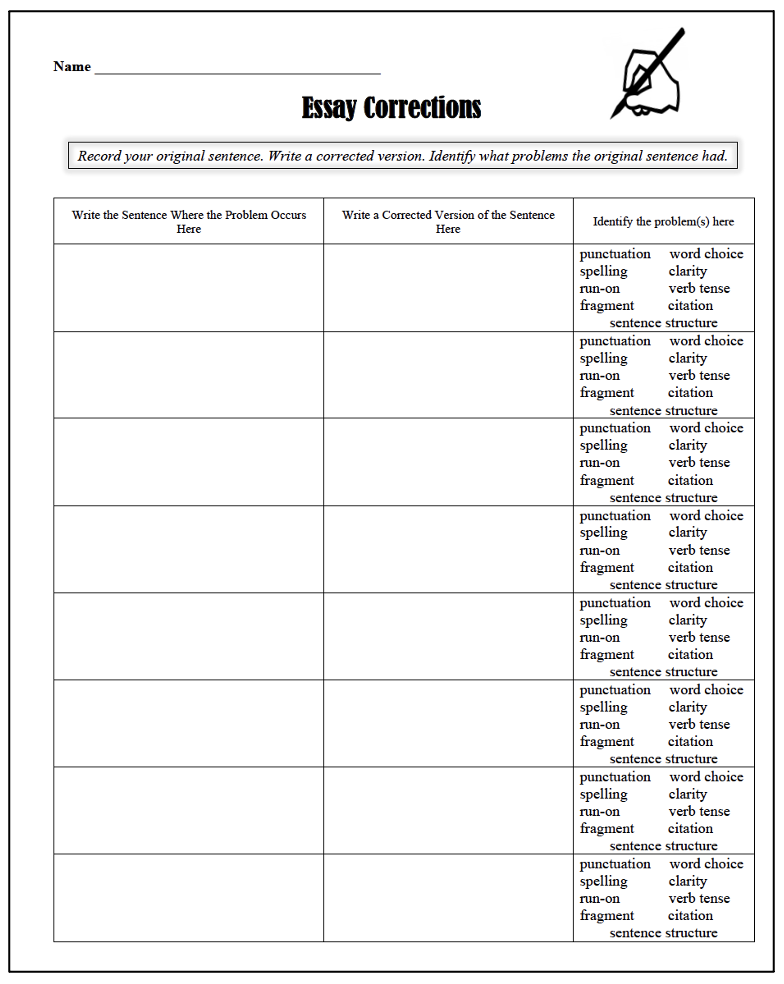 When I grade writing, I simply highlight sentences that need revision. Then the students use this worksheet to not only correct the sentence, but also to identify what kind of error(s) the sentence contained. This way I know the students understand the mistakes that they made and have practiced fixing them. I found my students' writing improved much more after I implemented this system.
Book Talk Guidelines & Rubric
Another FREE download that encourages engaging novel discussion is the Created for 7th - 10th grade students, this is all you need to assign a book talk to your students. This download includes guiding questions for their script and a rubric to grade their presentation.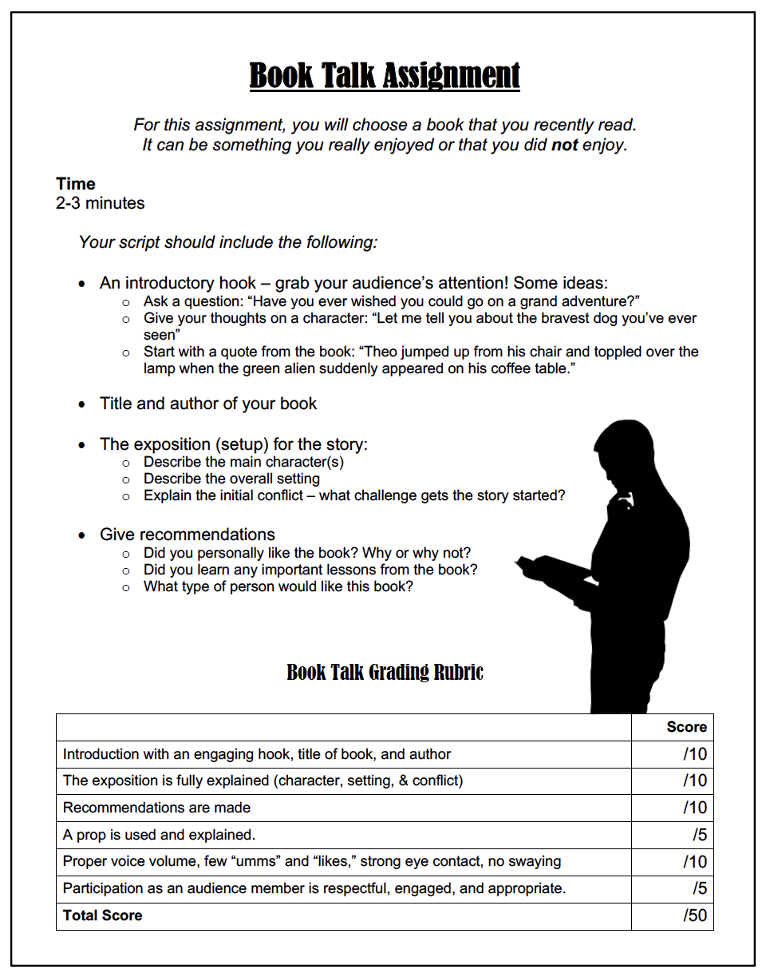 Enjoy listening to your students' book talks! I assign these book talks as part of our
Visual Thinking Routine: 3-2-1 Bridge
The purpose of this assignment is to gauge prior student knowledge and to assess student learning. Students may complete the on any topic. It is a "brain dump" of sorts for students to make their thinking visible. I like to use this when I teach the historical context of a novel. For To Kill a Mockingbird, my topic might be The Great Depression. The students start by thinking of three words that relate to the topic (Ex: stocks, poverty, dust). Then they have a learning experience (lecture, reading, film, etc). Next, students complete the same three activities, and then reflect on how their new responses connected to or shifted from their initial responses.
This worksheet is based on Harvard's Project Zero Visual Thinking Routines.
Student Reflection on Graded Work
The free download helps students improve their writing after receiving educator feedback. Teachers know that they should incorporate opportunities for student metacognition (reflection), but when students are asked to reflect on an assignment, they often have no idea what it even means to "reflect" and produce only the most shallow analysis of their own work.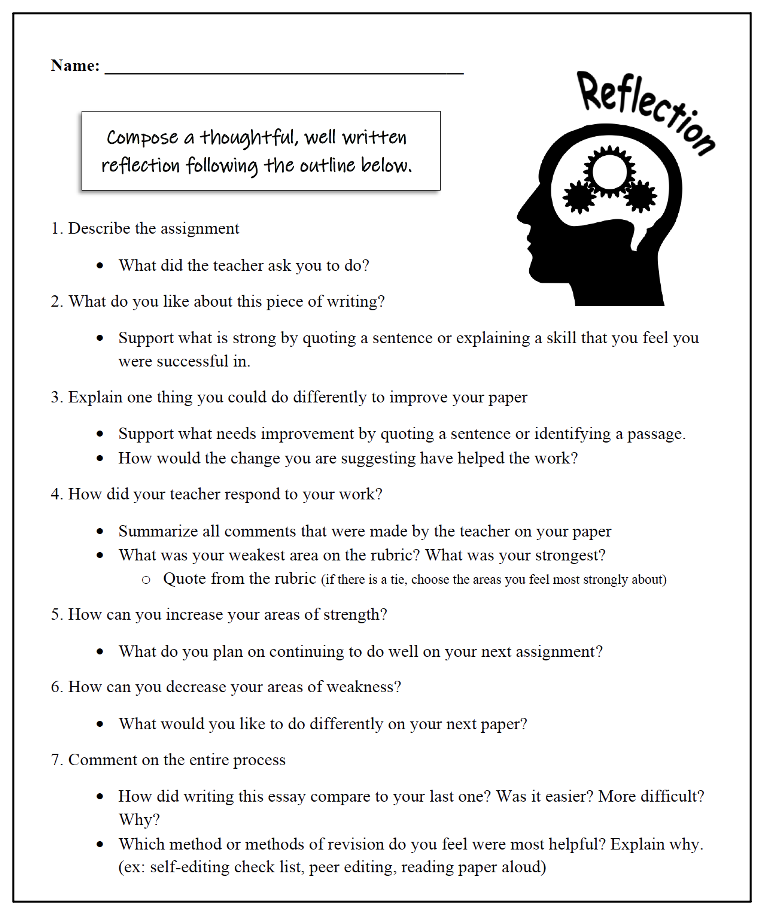 This outline with guiding questions teaches student strategies to derive rich meaning from their academic experiences. By reflecting on what they learned, literary students are able to identify their newfound knowledge and see their own growth and awareness of the content. By reflecting on the feedback they received on their graded assignment, they can more fully process the information and strategize for their next assignment.
Group Project Rubric with Self Evaluation and Group Evaluation
The next free resource can be used for any subject. I used to struggle with group work because some students did much less than others, yet they often earned the same grade. This was especially frustrating for the harder workers in the group, but it was often difficult for me to get a true sense of what each group member contributed. My solution is to have each student assess their own contribution to the group and to also rate the work of their teammates with my .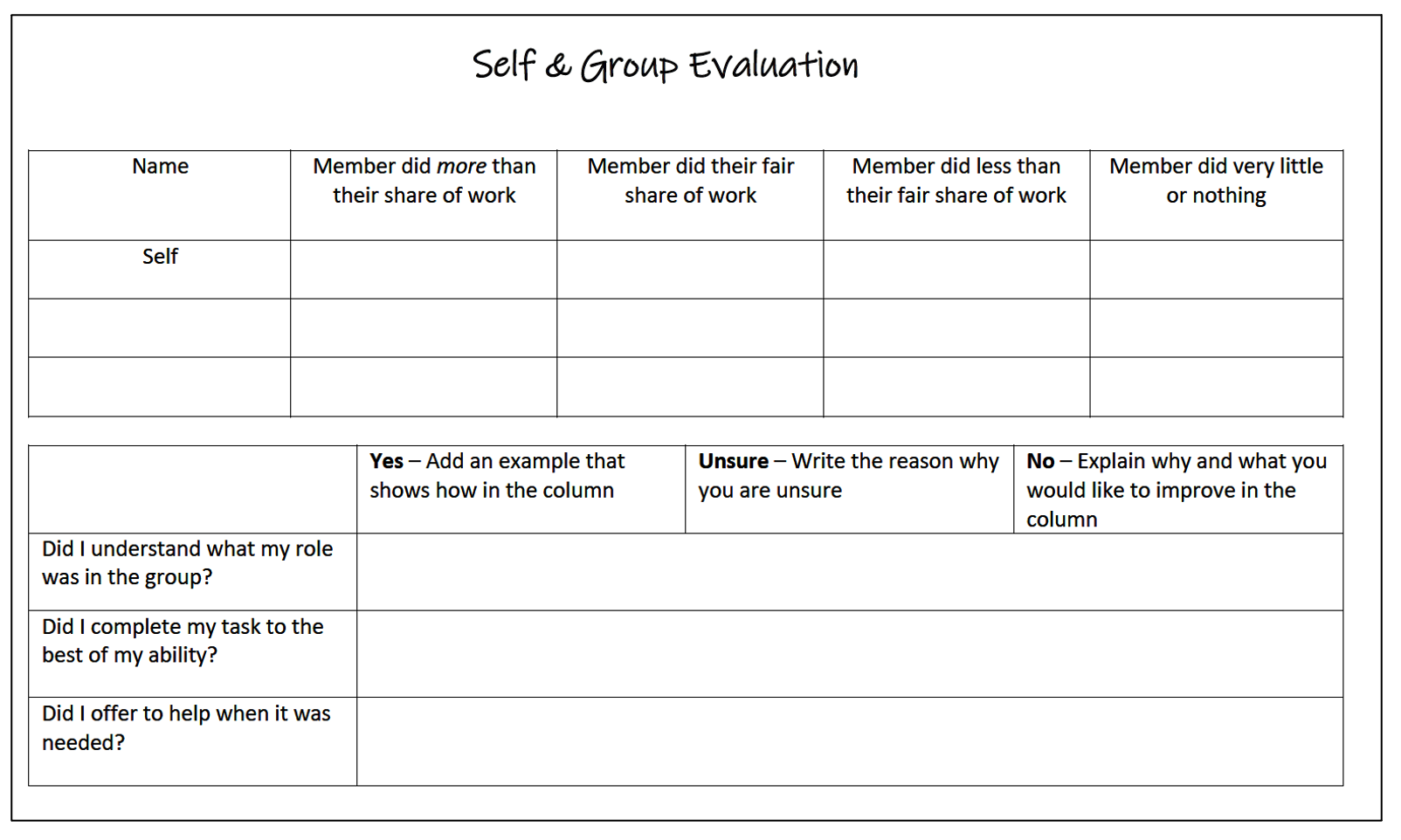 I use this information to produce a group evaluation score that I add into the overall grade for each student. This means that a student may earn a certain score based on the merits of the final product produced by the group, but their individual grade is affected by their group evaluation. The simplest way to incorporate this is to simply add a "Group Evaluation" category to your existing rubric. Students also appreciate the opportunity to debrief on their experience and feel that the grade for each group member is much more fair.
Literary Elements Bundle
If you need a comprehensive literary elements and techniques bundle, check out my . Appropriate for grades 6th - 9th, or homeschool students, this bundle includes all of the free resources listed above PLUS the following:
Here are some highlights from the bundle:
Character Analysis Unit
The covers indirect characterization techniques (appearance, speech, actions, private thoughts, others reactions) and key terms: protagonist, antagonist, round character, flat character, dynamic character, and static character. Everything is fully editable.
This full unit also includes:
Two fun and engaging group activities for students to apply their knowledge of indirect characterization techniques
A handout listing character traits to help students verbalize character descriptions
Two Indirect Characterization Worksheets with answer keys
Characterization Comic Activity
Characterization Poem Activity
Characterization Test with answer key
Character Analysis Essay (FREE), which includes prompt, prewriting, outline with example sentences, self-editing worksheet, transitional language chart, and student reflection assignment.
Irony PowerPoint with Student Notes
This gives students practice understanding irony and teaches them to distinguish between verbal irony, situational irony, and dramatic irony. There are also links that launch from the PowerPoint to some excellent Ted-Ed videos. A handout for students to fill out during the lesson is also included. Everything is fully editable.
Creating Foreshadowing PowerPoint Lesson and Activity
Looking for a simple way to teach your students about foreshadowing? This teaches students about different techniques to create foreshadowing. Students then complete a 2-page worksheet where they come up with their own foreshadowing for a given event. Everything is fully editable. Types of foreshadowing covered in the lesson include:
narrator statement
creating pre-scenes
discussing an approaching event
giving characters irrational concern
giving characters apprehension about an event
showing an important object
using symbolic imagery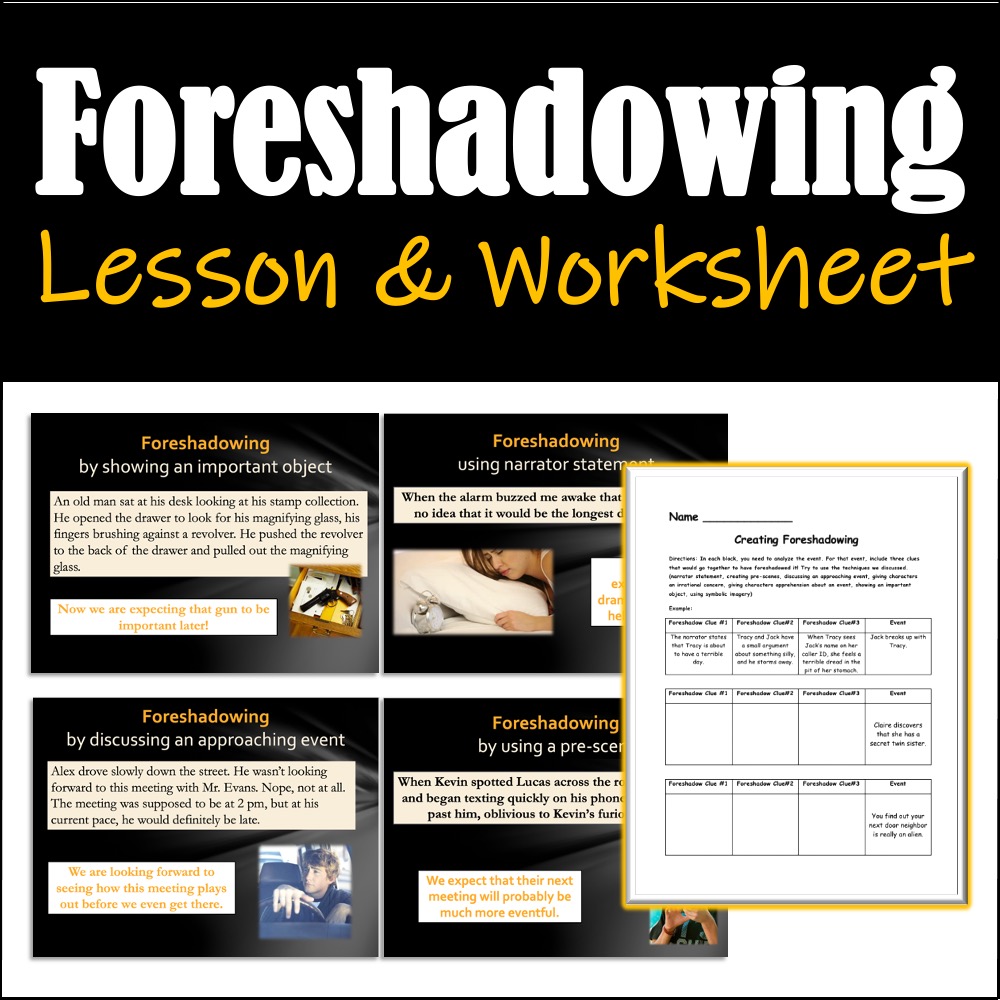 Elements of Plot for Distance Learning
Distance learning can be tough, but this download can make it simple! I have created a seven-minute video explaining the five parts of a plot: exposition, rising action, turning point/climax, falling action, and resolution/denouement. I go over the terms and create an animated story to illustrate each section. Also included is the PowerPoint in case you would prefer to narrate the lesson yourself. The student notes are an outline of the lecture with blanks for the students to fill in as they follow along.
To purchase only the streaming video, I use videos for my flipped classroom. Students view a video lecture and fill in their notes for homework. With the passive learning out of the way, students come to class ready to actively engage with and apply the concepts. This also gives us more class time to work collaboratively with one another. Videos are also great for tutorials or remedial work. Need to be out for the day? Leave a video lesson for your substitute.
Grammar Resources?
Looking for more resources to help teach English or grammar? My is created for 4th - 7th grade students and covers the parts of speech, capitalization, subjects & verbs, fragments & run-ons, phrases, clauses, and quotation marks. Most lessons include a video and PowerPoint version. Lessons can also be purchased individually.
Check Out My TpT Store!
Did you enjoy these free lessons? Check out my TpT store: . I create a variety of resources such as Scratch Coding lessons, Technology & Digital Design lessons, Literary Analysis lessons, Novel Studies, and more!
Questions about Teaching Literary Elements?
I am happy to answer any questions you may have pertaining to teaching your students literary elements and techniques. Are you a brand new English teacher? If so, were these free literary elements worksheets helpful? What other lesson topics would help make your classroom run more efficiently? Tell me in the comments section. Don't hesitate to reach out if I can help you grow in encouraging your students to appreciate literature!