If you are looking for a , you have come to the right place! I began teaching this course to high school students in 2017, and these are the lessons that I think work best with this age group. You will find my graphic design curriculum to be a helpful option for Digital Media, or Digital Art, and Graphic Design Courses. This course is a wonderful way to introduce students to digital design for beginners! Would you like my course outline? Just click and you can use it to develop your own scope and sequence for your course.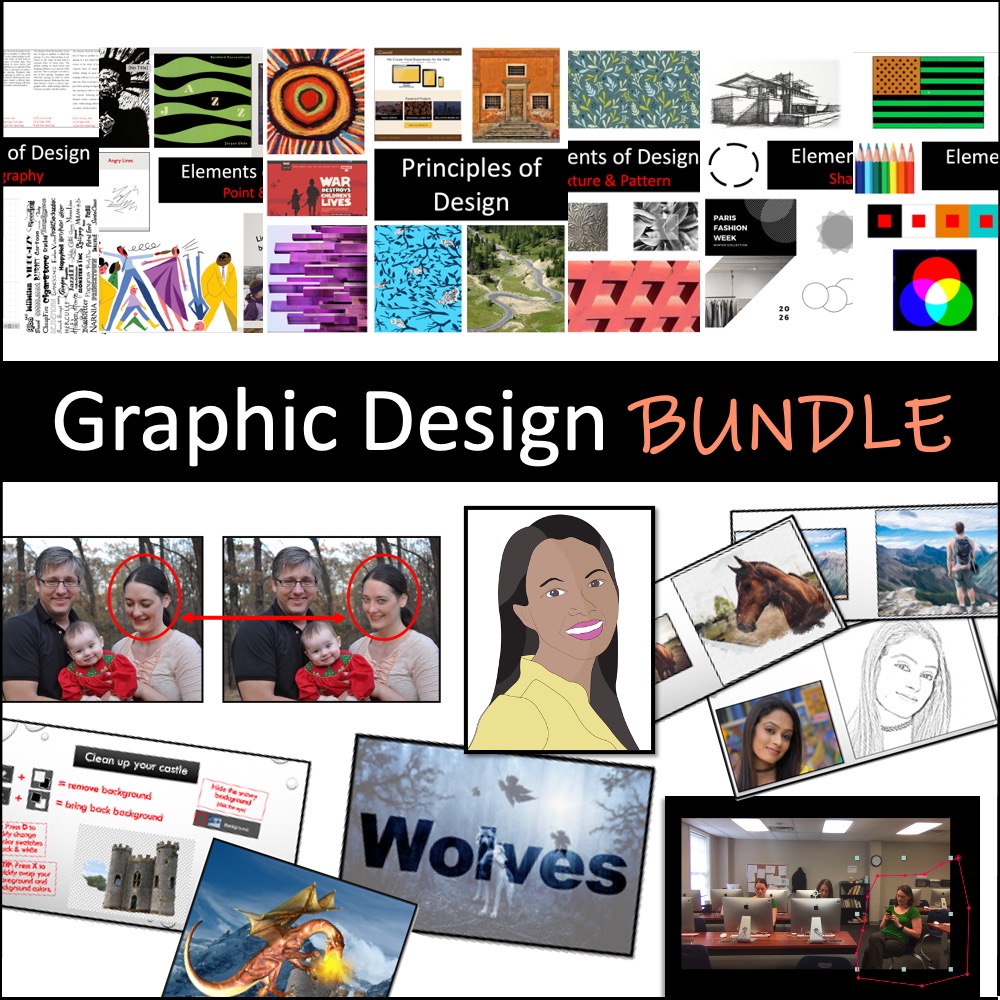 My lessons are always fully editable so that you can alter them as needed for your own students. The slides are jam-packed with essential graphic design knowledge for beginners, and they always culminate with some sort of activity for students to apply or demonstrate their new knowledge. The lessons are so detailed that you could also use them for distance learning. Just send your students the PowerPoint or Google Slides version, and they will be able to follow along independently. I also have several free lessons that you are welcome to grab to help you in designing your own curriculum!
Digital Art can inspire creativity and is a part of almost every facet of our culture from marketing, social media, film-making, eBooks, and more. Graphic design is an incredibly serviceable skill in today's market. This course will help guide your students to a world of creativity!
I organized this course into 53 one-hour class periods and it includes lessons on:
Scope and Sequence
The course is available in PowerPoint or Google Slides format. In the lessons, students are guided through an activity with step-by-step directions, and then they are given an independent activity to apply their learning. All the media for students to use is also included. Click for an outline of my course.
Introduction PowerPoint
Digital Art can inspire creativity and is a part of almost every facet of our culture from marketing, social media, film-making, eBooks, and more. Graphic design is an incredibly serviceable skill in today's market. This course will help guide your students to a world of creativity!
The first unit begins with a discussion of the differences between beauty and aesthetics, the definition of design, the difference between art and design, and more. This introduction is a FREE download! If you want to see how I launch my course, check out this This FREE lesson is also available in
The first slide gives the definition of digital. Digital is computerized technology.
The next slide discusses the definition of design. Design is a way to communicate an idea or concept using design processes, elements and principles.
Then I ask students if design is the same as art. In my course, I highlight the idea that design can be art, but above all, it should have a function. Art must be interpreted, but design should be understood the same way by everyone.
This leads us to discuss the difference between beauty and aesthetic. These concepts have to do with the nature of art and how each is interpreted. It is known in the graphic design world that beauty is subjective and open to interpretation. However, aesthetic is the analysis of why certain things are generally perceived as beautiful. Aesthetics are what we will focus on in our designs.
Learning digital graphic design is NOT simply about learning a particular software. You do NOT need to have a natural ability to draw like an artist. Did you know that not all graphic design is done on a computer? Finally, design MUST communicate a message. Remember, design should have a function or purpose.
I also have students visit Behance to observe and analyze examples of digital art. Behance, which is a part of Adobe, is the leading online platform to showcase and discover creative work. People from around the world join Behance to showcase their work. I like to inspire my students with this resource early in our course.
Elements and Principles of Design Unit
My first unit dives into the Elements and Principles of Design. Understanding point & line, shape & form, Gestalt principles, texture & patterns, color, and typography are foundational for any art class. I think it's important for students to get this grounding early on before diving into our digital design tools.
Each individual lesson pertaining to the Elements and Principles of Design is linked below for further details. They are sold separately and also sold together in a .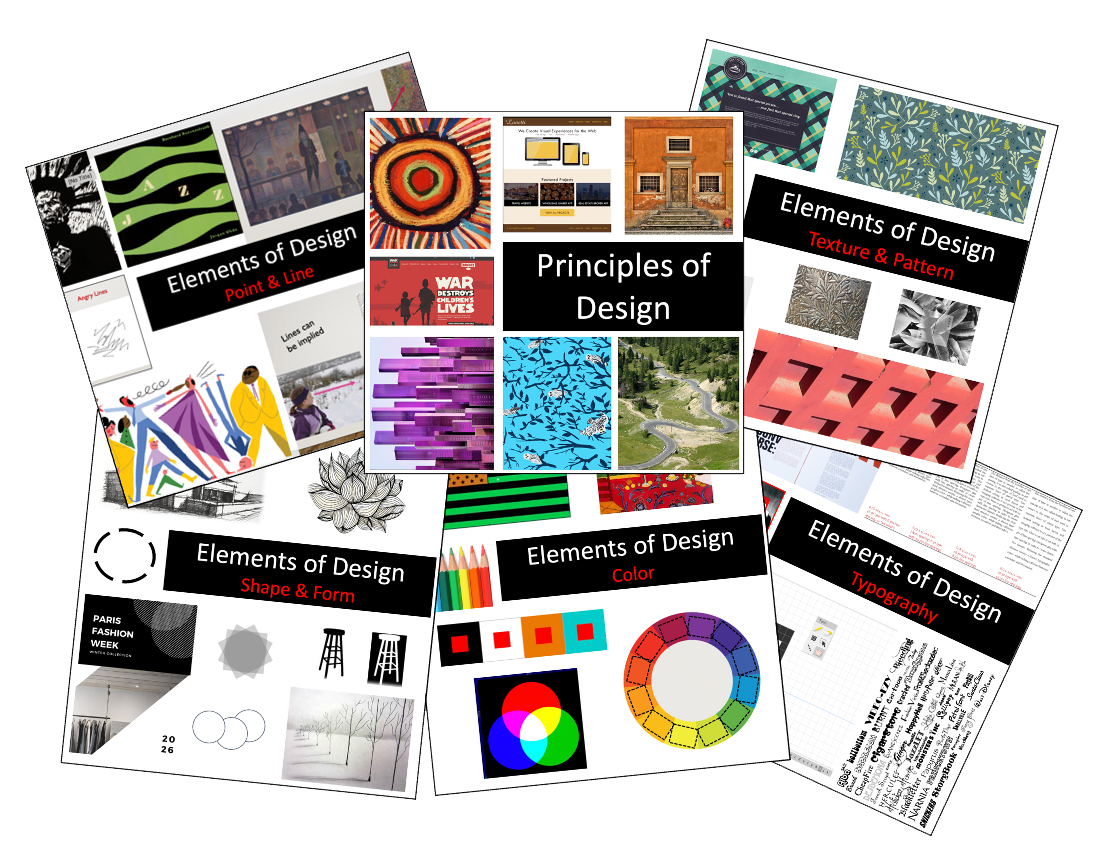 Each of the lessons explains the concept and then assigns students a small task to demonstrate their learning. In this unit, I like to have students take photographs to train their eyes to start noticing some of the elements we are discussing. This also gives them some photos that they can work with right away when we dive into the Adobe CC tools!
At the end of this unit, there is a test to ensure students have understood the concepts. You can .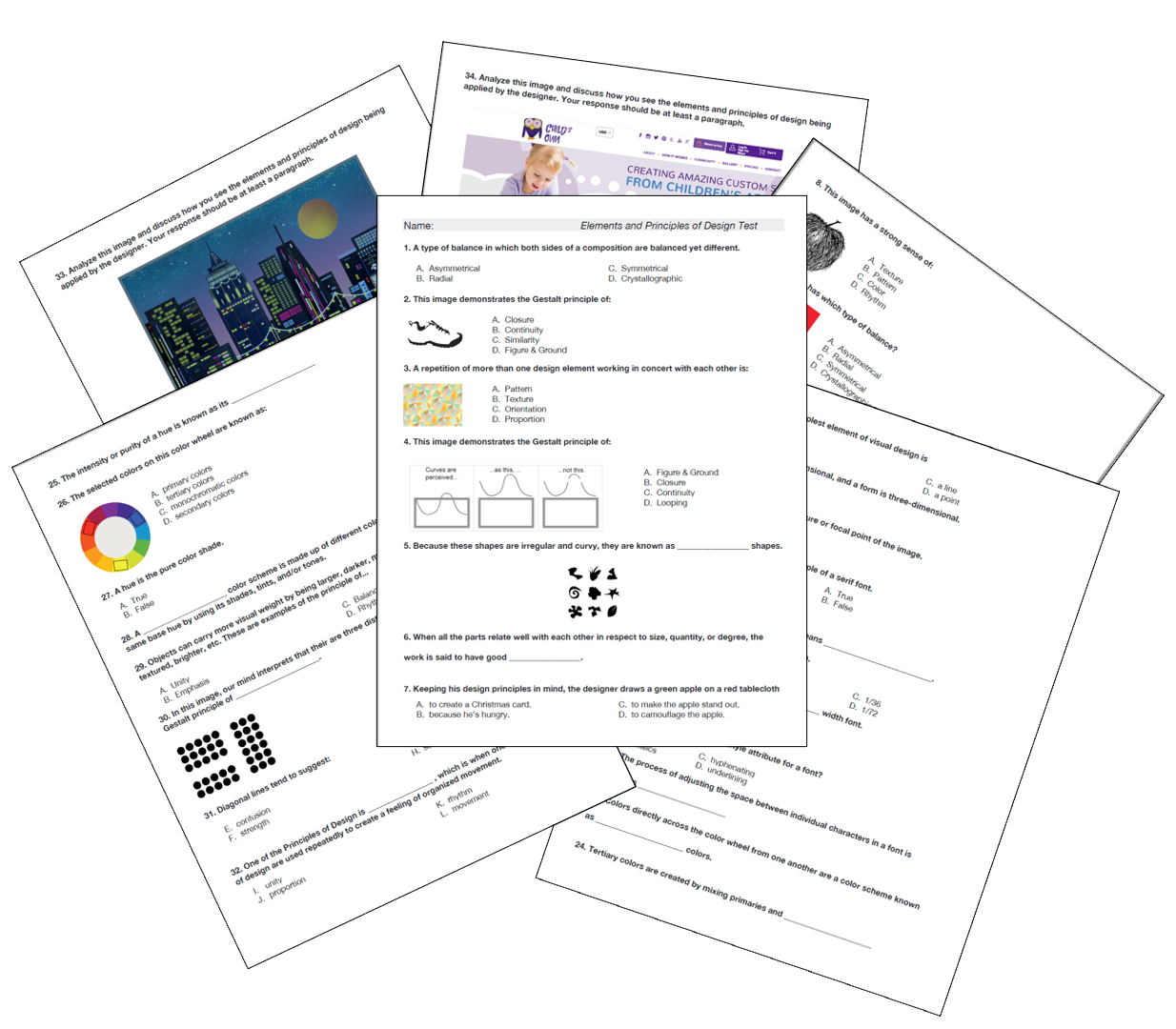 Adobe Photoshop CC
The next section covers Adobe Photoshop CC, which is software that creatives use to produce a myriad of unique designs, including editing photos, graphic design, web design, or video editing. The lessons for Photoshop CC start with basic skills like creating a collage, formatting text, and using layers. Then we start having some real fun when we create our own fantasy landscapes and morph multiple faces into one to create our very own Frankenstein! We also learn more standard skills, like portrait correction (bye, bye pimples!) and everyone's favorite… head swapping! Everyone has that one group photo that would be perfect if we could just switch out a head or two!
There are 14 lessons in this unit, which are also available in a discounted bundle. The first lesson is FREE. Download it today!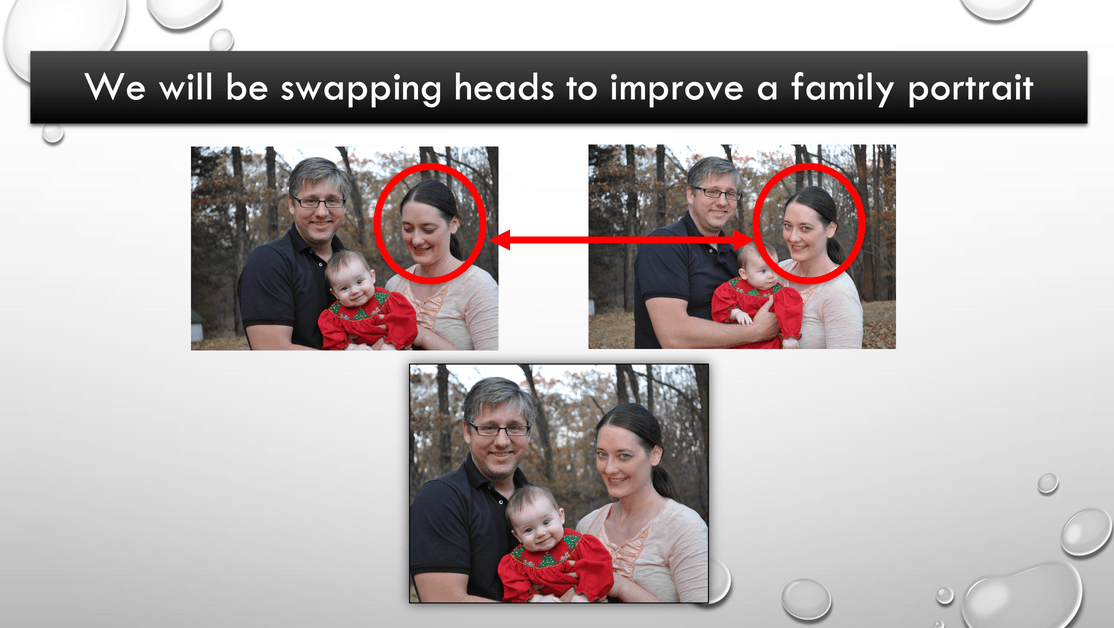 Photoshop Project
At the end of the unit, students create their own project that they feel best displays their new Photoshop knowledge. Feel free to . Definitely have your students present their projects at the end of these lessons, and appreciate the hard work of your class!
Adobe Illustrator CC
Adobe Illustrator CC is a software tool used to create various digital or print graphics including illustrations, charts, graphs, cartoons, logos and more. Whereas Photoshop focuses on photo manipulation, Illustrator is your tool for actually drawing. But don't worry, you don't have to have any real drawing skill to create some cool things. Illustrator has so many sophisticated tools to aid you in your drawing!
Each Illustrator lesson is detailed below:
Illustrator Getting Started Lesson & Free Downloads
The Getting Started with Illustrator lesson will help orient students to the major tools. First, students will create and manipulate simple shapes. They play with color, including re-coloring using color harmonies, gradients, and the eyedropper tool. Next, students will open vector images, use the alignment tools, try the eraser, scissors and knife tool, and use the pen tool. Next, they try out the shaper tool, pencil tool, path eraser tool, and join tool. Finally, they play with tools like warp, pucker, and bloat.
To see some excerpts from the Getting Started Lesson, download the and the
Now that students are familiar with how Illustrator works, I have two projects for them. In the , students trace a photo portrait and create a vector drawing. High-quality photo portraits for students to choose from are included in the download. In the , students go more in-depth with how to design their own text in Illustrator, and then they create their own personal logo.
Adobe InDesign CC
Adobe InDesign CC is layout and page design software. Use it to publish books, digital magazines, eBooks, posters, interactive PDFs, and more. There are a lot of practical projects in this section including building a resume, creating a magazine spread, and re-designing a restaurant menu. Notice that I offer several freebies in this unit!
Grab the details of each of the Adobe InDesign CC lessons:
So many interesting digital products you and your students can create with Adobe InDesign CC! The download is an excerpt from the Resume Project, and the is an excerpt from the Magazine Spread Project. These are free so that you can assess the quality of the full lessons. My culminating assignment, is also completely free to download! You can use this project idea for any tool, not just InDesign. Students really become inventive when designing a restaurant menu.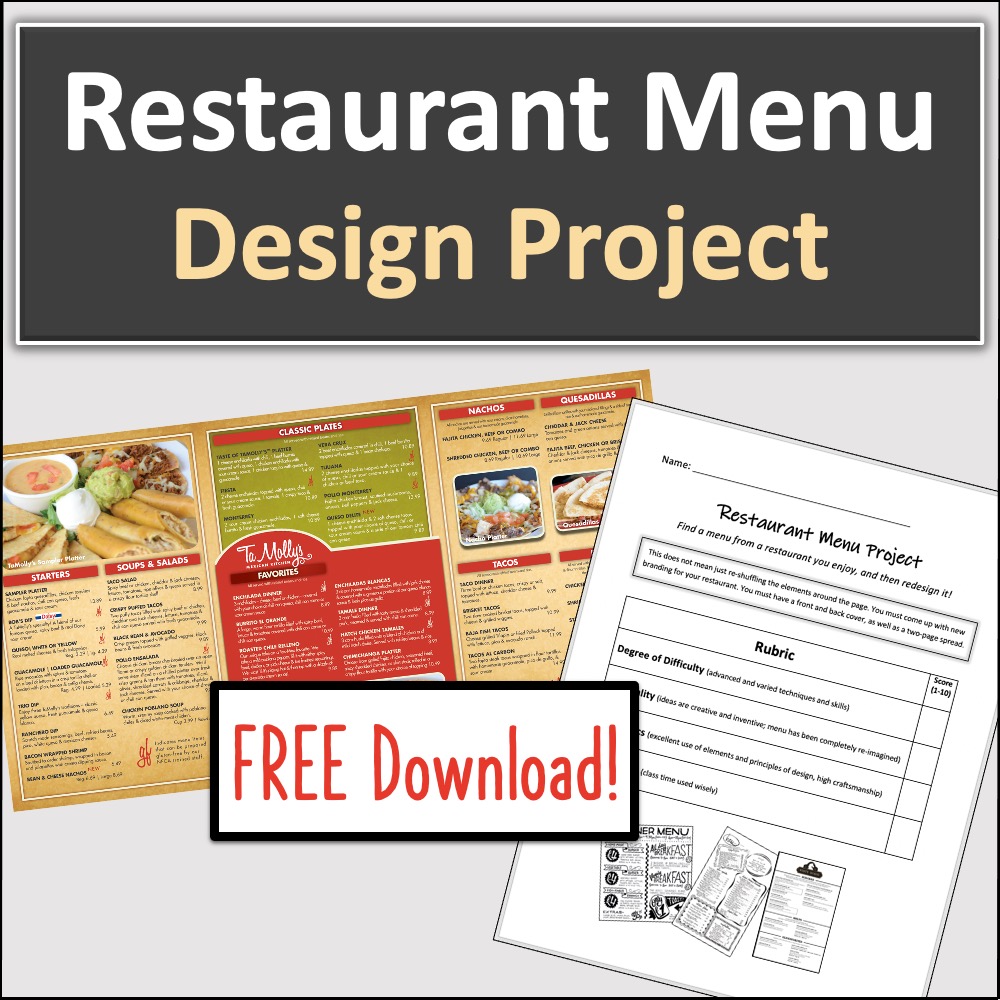 Video Editing Software Lessons
Next, your students will learn how to edit videos like a YouTube pro! You students will enjoy wrapping up the semester with these lessons:
Adobe Premiere Pro CC
Adobe Premiere Pro CC is a timeline-based video editing software application developed by Adobe. I created an overview lesson with detailed screenshots. Students combine three elements: a video of a beach scene, a UFO filmed on a green screen, and an image of an airplane. All the media is included in the download. The lesson culminates by requiring students to add another image to the video that moves using keyframes and to add another green screen video. I encourage students to use my website for finding copyright-free media.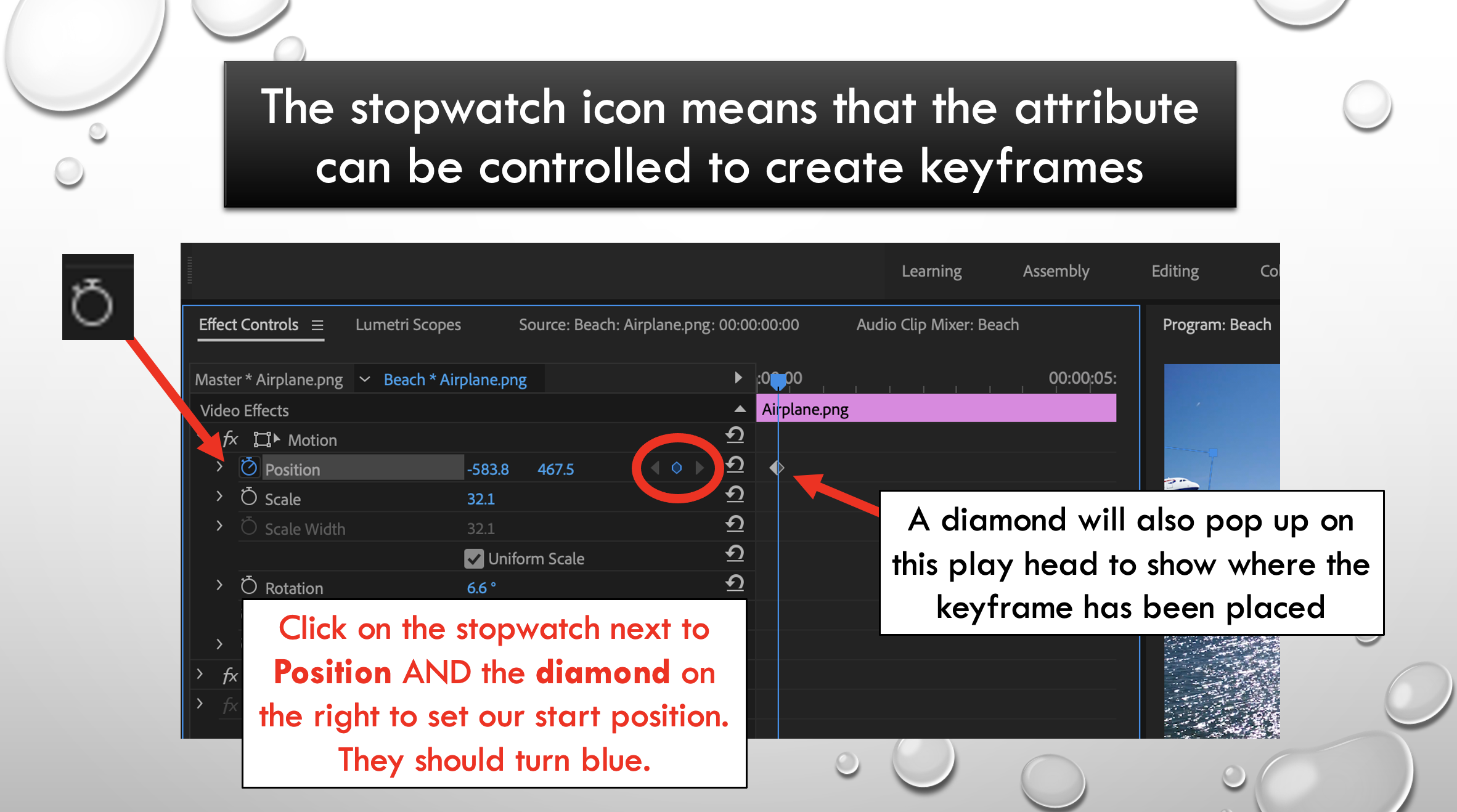 Adobe After Effects CC
Adobe After Effects CC is a digital visual effects, motion graphics, and compositing application developed by Adobe. Students will go through 58 slides as well as embedded videos to make a video with special effects! They will combine three separate film clips into one movie, so that there appears to be three versions of the same person in the room. They will also create a fake explosion. All media needed to make the video is included in the download. After following the steps, students are given guidelines to make their own video using special effects.
Check out the video they will make in the lesson:
Student Digital Portfolio Assignment
There are so many digital graphic design concepts learned in this bundle! To bring closure to the course, I have created a which you can download for FREE! Students use to create an online portfolio of their work from the entire course.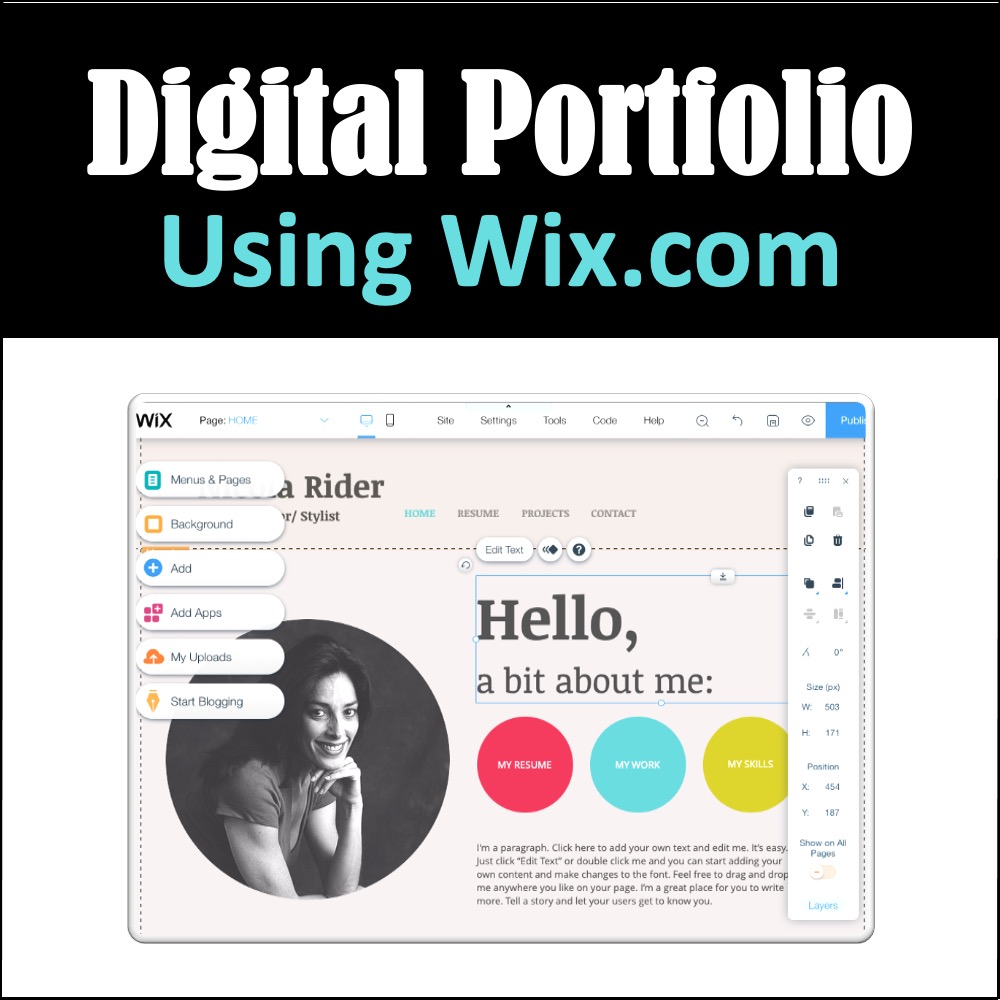 More Technology and Digital Design Lessons?
Looking for more technology and digital design lessons for you or your students? I have lessons for teaching coding to students. Check out my or my . I also have lessons for Microsoft Applications, such as , , and .
Check Out My TpT Store!
Did you enjoy this project? Check out my TpT store: . I create a variety of resources such as Scratch Coding lessons, Technology & Digital Design lessons, Literary Analysis lessons, Novel Studies, and more!
Graphic Design Beginner?
Are you a graphic design beginner or a teacher guiding your students through this program? If so, was this curriculum helpful? What did you find helpful or challenging? What other lesson topics would help you improve your graphic design skills? Tell me in the comments section! I hope you enjoy my graphic design curriculum! Please reach out if I can help you learn more about digital design.