Adobe After Effects is a high-powered editing tool that can be intimidating to new users. Many instructors in graphic design will teach their students Premiere Pro and leave After Effects to the side, worried that it will be too complicated for them to learn. However, After Effects is the best program for your students to learn for creating special effects. Understanding this tool will truly elevate their video editing capabilities.
The Project
In this lesson, students use Adobe After Effects to combine three separate film clips into one movie, so that there appear to be three versions of the same person in the room. They also create a fake explosion.
They follow step-by-step directions to guide them through the process. All media needed to make the project is included in the download.
Masks
They layer their three videos and use the pen tool to draw masks that will allow them to cut holes in the footage so that the person will appear to be in the same frame three times.
Brightness & Contrast and Feathering
A cloud passed over the sun when one of these clips was being filmed, and so that clip is darker than the others. Now that we've spliced them together, there is a clear line showing where we drew our mask. But don't worry, we will adjust the brightness and contrast on the clip. Then we will use feathering to blend the pixels to further smooth out any evidence of where we made our cut.
Keyframes
When we play our video all the way through, we discover that our middle person crosses behind our person on the right. Because of our mask, our middle person partially disappears as they flee the room after the explosion.
This means we need to make our mask move with our person on the right. As the girl who'd been looking at her phone runs off to the right, the mask needs to move with her off the screen so that our middle girl does not get masked out when she moves. We can do this quite easily using keyframes.
Layer Blend Modes and Linear Color Key
We use our layer blend modes and the linear color key effect to remove the black background from our explosion video. We tweak this footage until it looks realistic in our video.
We also use layer blend modes and keyframing again to cause damage to appear on the computer monitor.
Sound and Text
We learn how to add sound and text. We also have fun animating our text.
Color
Finally, we play with color. I have the students change the color of one of the girl's green shirts to blue.
After following the steps, students are given guidelines to make their own video using special effects. This is always their favorite video editing assignment for my class, and I've been blown away by the creative videos they have created.
Get the Lesson
Would you like this lesson for yourself or to teach to your students? It is available in PowerPoint and in Google Slides. All of the media is included in the download, and everything is editable.
Other Video Editing Software Lessons
I don't start my students out on After Effects. We start with to learn the basics of video editing. Then we move on to
Digital Design Course
You may be interested in my . Would you like my course outline? Just click and you can use it to develop your own scope and sequence for your course. I began teaching this course to high school students in 2017, and these are the lessons that I think work best with this age group. You can read a detailed blog post about this curriculum here.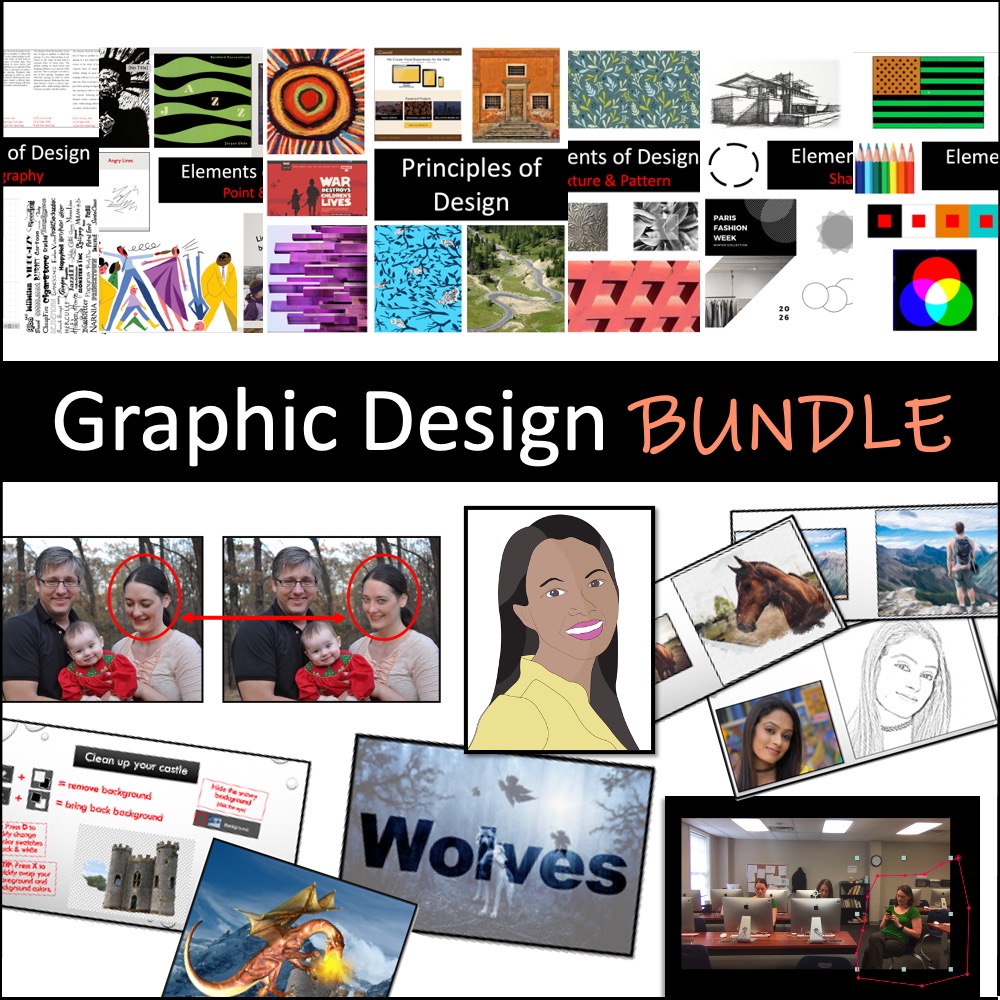 My lessons are always fully editable so that you can alter them as needed for your own students. The slides are jam-packed with essential graphic design knowledge for beginners, and they always culminate with some sort of activity for students to apply or demonstrate their new knowledge. The lessons are so detailed that you could also use them for distance learning. Just send your students the PowerPoint or Google Slides version, and they will be able to follow along independently.
FREE LESSONS
I also have many free lessons that you are welcome to grab. In some cases, these are excerpts from longer lessons that I also have available.
Check out My Store
Did you enjoy this project? Check out my TpT store: . I create a variety of resources such as Scratch Coding lessons, Technology & Digital Design lessons, Literary Analysis lessons, Novel Studies, and more!